[font=&quot]Lead by [mention=56975]Sirena[/mention][/font]
[font=&quot]

How To Request A Signature,Avatar and/or GFX

[/font]
We have a form below that you will have to fill out.Please fill it out completely and make sure all links work so we can work on your request.This speeds up the process but please be patient.Sometimes things come up out of our control.

NO PIC, NO GFX If you do not supply a picture then we will not work on your request.No exceptions on this.


If your request is not been claimed by one of our GFX Artists by one week please post it again as a reminder.Sometimes we forget or a artist chooses not to take it due to it not being their style or catches their eye.If your request is still not taken by 2 weeks please tag myself (Catacombs) and I will take care of it.


You have the right to reject what the Artist has made for you but please be polite when doing so.We do this because we enjoy it and what to do something nice.


Please thank the Artist that completed your request.You don't have to pay them with AL points unless you want to.Just simply saying thank you will be great.No one likes doing things for someone that can't say thank you.Honestly we are doing this to be nice and the experience.

Must have atleast

25 posts

in order to request an GFX.If you have under 25 posts please wait.We will not take your request til you reach this.It will be placed on hold til then.

The images that you give us should be good quality.If it is too complicated or low quality we will reject it and ask you to provide another.


Please no stealing other people's images.Get permission from the Artist before asking us to work on it.

Good places to find renders and stock photos can be found at the following sites:
a) http://planetrenders.net/
b) http://bakarenders.com/renders/
c) https://www.deviantart.com/
d) Google and Yahoo search
Request Form:
GFX Type: (sig, avatar, set, clan banner, userbar, etc.)
Username/Name: (Only add this if you want it in the GFX)
Design: (what do you want it to look like?)
Text: (no more then 7-8 words)
Image(s): (What pictures do you want used?No copyright material unless you have permission from the creator)
Size: (No higher then 300 height x 800 width.You may choose size smaller but not higher.)
Extra: (Anything specific you wanted added on? Emphasis is good here)
Preferred Artist

: (Only put a name or more if you have anyone specific that you want to work on your request.A list of our official Artists is listed below.)
Please wait atleast 3 weeks before requesting anything else.If we have time to complete the request before then we will let you know.So please ask if you can before filling out the form.
This gives us time to complete other requests.
All finished products will be posted in this thread.Please check back regularly.We will mention you when the request is done and posted.
CURRENT GFX ARTISTS
Username:
[mention=56975]Sirena[/mention]
Samples: Sirena's Creative Exploits
What your talents are: Signature,avatar,wallpaper,YouTube cover art,userbars,banners,Badges/Rewards,GIFs,"out of box" GFX
Style: Various.I love learning and using different styles.
Other: Learning how to work with gifs.I can't always edit.But I do as much as I can each week.I like editing atleast 3-5 edits a week and I can usually keep up with it.


[B]Status:

ACTIVE

[/B][/center]
Username:
[mention=80169]xWickedNekox[/mention]
Samples: My Artsy Stuffles!
What your talents are: Avatars, Signatures (regular & gifs), Banners (big or small), Awards, and Smilies...
Style: A lot of my stuff is either cute or creepy but I'm sure I can do other styles if I tried lol...
Other: All that I ask for is a render of the main subject of your request or mention what/who it is in your request so that I can google a render of it/them... :3
Status: ACTIVE

Username: PharaohAtem




Username: Ran Kami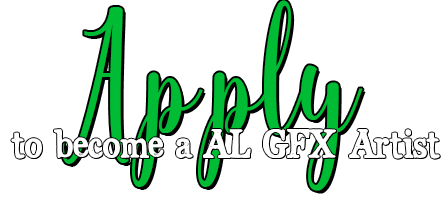 [left]

[font=&quot]How To Become An Official AL GFX Artist![/font]


message this only.applying post will not be looked at

[/align]

[/left]
You don't have to be an Assistant in order to be an Official GFX Artist.Judge purely on talent.If you get rejected it may not be because of your skill.It could be that we are full and/or there are too many Artist in the same genre.Yes,we do reject people.We do it calmly and respectively,Please act the same if you are rejected.We may accept you at a later time but not if you act poorly the first time.If you get it please act humbly.It isn't nice to gloat.




[font=&quot]

Application Form:

[/font]




Username:
Samples: [Need to have atleast one.It helps if you submit one in all areas that you are good at. ]
What your talents are: [Blinkies, userbars, animation, etc. List what you are good at and what you are not.]
Style: [Clean and crisp? Grunge? Preppy? etc.]
Other: [Anything else you what the requester to know?Like many how much time or days you can work on requests.Ect.]




If you are to be inactive please message me immediately

.This way someone doesn't request you when you are inactive.There is no shame in taking time for yourself but I really do need to be informed.When you return please let me know and I will put you as ACTIVE again.


As of right now there is no payment for being an GFX Artist other then mine and the requester's gratitude.The requester can choose if they want to thank you in AL points or not.This is not expected nor required.All GFX Artist will get a banner in the color scheme of their choosing that says "AL GFX Artist" that they can choose to use in their signature.This may change in the future and we may be able to offer more.






Please contac

t [mention=56975]Sirena[/mention]

if you have any questions or concerns!