And my vote goes to the Ghostbusters.
And that concludes round 2!
Who you gonna call? Ghostbusters takes the round 8-2. Sorry Gizmo, you're not getting fed after midnight. 
Round 3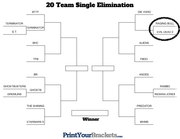 Moving onto the next round now, and it's Robert De Niro vs Bruce Campbell. 
Raging Bull vs Evil Dead 2
Vote below for your favourite. 

Spoiler: