Moderators: Keilonrich22, Expendable, Momogari
Yup! I alreaday at that point also.
@Grace Mellody
I kind remeber Syl saying somehing like that (or Ferdy… may be?)
@Killer Wolf
howmany Vols. did you bought?? what do you think now?
from part two (Vols 4 to 8th) they contain more details hasn't adapted in the Anime

Spoiler:  
There is again! The ultimate technique: "It's all his fault, not mine"!
Goddess, High Bishop, you sure are popular. 


---
まんが  きけん          むがく
漫画は危険じゃない、けど無学です。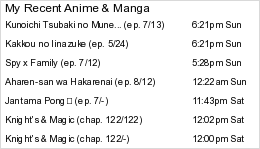 Manga wa kikenjanai, kedo mugaku desu.

My Nintendo Switch Friend code:

5732-2848-3981
...'Benno frowned as I finished listing off all the reasons why I din't want to give the books leather covers'


---
Ekkun