Moderators: Keilonrich22, Expendable, Momogari
yeaah! I was too late! T__T
@Gracemellody
Flame of Rekka is a quite olde anime... Lates 90's if I do remember well ...
I recently watched on Netflix? or amazon Prime ... (not sure which one)
There is again! The ultimate technique: "It's all his fault, not mine"!
Goddess, High Bishop, you sure are popular. 


---
まんが  きけん          むがく
漫画は危険じゃない、けど無学です。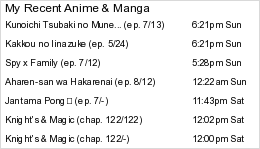 Manga wa kikenjanai, kedo mugaku desu.

My Nintendo Switch Friend code:

5732-2848-3981
...'Benno frowned as I finished listing off all the reasons why I din't want to give the books leather covers'


---
Ekkun